LDS Missionary Physicals
Prospective missionaries for The Church of Jesus Christ of Latter-day Saints are required to have a missionary physical. Dr. Reed Ward provides the required missionary physical examination needed to submit the Missionary Application Packet to Salt Lake City to receive their missionary call.
PHYSICAL PREPARATION
In the Missionary Application Packet, there are two forms that will need to be brought to the physical. These two forms include:
Personal Health History for Missionary
Please fill out the health history form and bring it with you. Also bring the blank health evaluation form which will be used throughout the physical examination.
THE PHYSICAL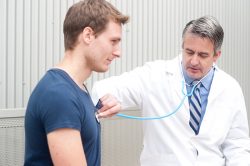 Dr. Ward will review the prospective missionary's health history and perform the physical. During the missionary physical, Dr. Ward will check the:
Eyes, Ears, Nose & Throat
Check & Lungs
Heart & Blood Vessels
Abdomen
Rectal area, Varicocle & Hernia
Back, Extremities
Neurological System
Breasts & Pelvic area (Women)
Dr. Ward will review any medications that are being taken, address any health concerns and order some standard laboratory tests.
HEALTH CONCERNS
If there are any known or discovered health concerns of consequence, Dr. Ward will work with the prospective missionary to correct or stabilize the situation as required by the Missionary Department. If there are any major incidence of disease or injury, previous medical records may be requested.
The goal is to make sure that the prospective missionary is physically and emotionally healthy enough to serve a mission and be successful.
SCHEDULING
To schedule a missionary physical contact Dr. Ward at 208-528-8170.