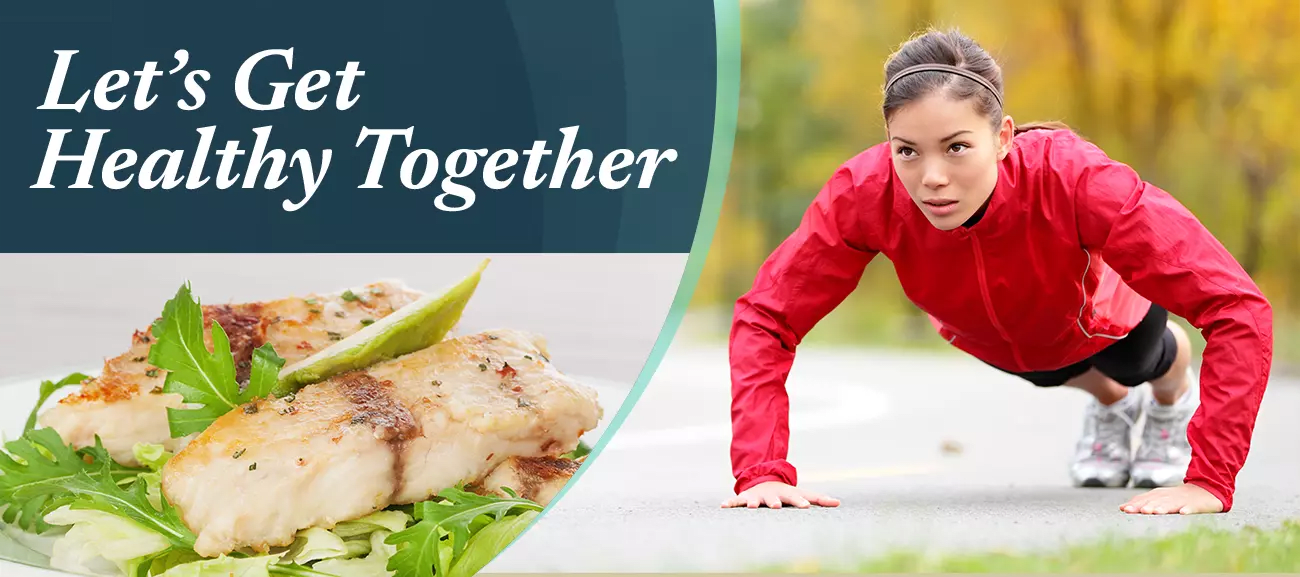 What is this?
Let's get Healthy Together is a plan designed to enhance the health and well-being of the patients and friends of Dr. Reed Ward. The plan was carefully designed by Dr. Reed Ward in conjunction with Level V Personal Trainer, Joel Peterson.
Together, Dr. Ward and Mr. Peterson are committed to help people improve their health and start feeling better. We all have to take responsibility for our health by identifying and maintaining medical conditions, exercising and eating healthy foods. As we make the effort to follow the resources as outlined below, we can all get healthy together!
Before you Start
If it's been a while, get your annual physical from Dr. Ward so he can identify any physical concerns that may be prohibitive to this health and wellness plan.
Exercise
Recipes

First Month

Getting Started
Salmon in Citrus Sauce
National Health Crisis – Special Edition Article
10 Minute Energizing Oatmeal
Week 1 – Let's Get Moving
15 Minute Cod with Avocado Salsa
Week 2 – Introduction to Resistance Training
Cranberry & Fresh Pear Compote
Week 3 – Dangers and Alternatives: Prolonged Sitting
Figs Walnuts & Spinach Salad
Week 4 – Core Strength
Ultra Synergistic Power Shake

Second Month

Chronic Inflammation is your Enemy! – Special Edition Article
5 Spice Salmon
Week 5 – Exercises for work and home
Marinated Bean Salad
Week 6 – Exercises for work and home – Part 2
Mediterranean Baby Spinach Salad
How important is fiber? – Special Edition Article
Broiled Salmon with Ginger Mint Salsa
Women & Weight Training – Special Edition Article
Recipe Quick Broiled Chicken Salad
Pitfalls to Great Health – Part 1
10 Minute Rosemary Lamb Chops

Third Month

Summertime – Let's Get Active!
5 Minute Cold Cucumber Salad
Uncommon Sense
Spinach and Sweet Potato Saute
Dealing With Stress
Turkey and Vegetable Chili
What happens in your body when you excercise?
Asian Chicken With Cashews
Week 7 – Exercises for work and home – Part 3
Getting and Staying Healthy

Fourth Month

Exercises for Work & Home Part 4
Peanut Shrimp
Good Health Comes From Healthy Living
Quick Broiled Chicken Breast with Honey
Diet and Exercise Myths
Tropical Energy Smoothie
Health & Aging: Part One
Pickled Cucumbers with Ginger

Fifth Month

High Intensity Training
Healthy Chicken Caesar Salad
Benefits of Stretching
Salmon, Cucumber, and Dill Salad
Benefits of Stretching Part 2
Strawberry Smoothie
Health & Aging: Part Two

Sixth Month

Is your scale making you crazy?
15 Minute Sauteed Chicken with Asparagus
Stop fighting losing battles with food
Sweet potatoes with ginger and cinnamon
Clear Skin
Watermelon Salsa
Health & Aging: Part Three

Seventh Month

Record Keeping: The Most Important Step
Baked Chicken with Lime
Ten Healthy Eating Tips
Chef's Salad with Walnuts and French Dressing
Joint Problems fish oil
Salmon in Citrus Sauce
Healthy Joint, Part 2
Black Bean Burrito, Indian style

Eighth Month

Keep It Simple
Poached Cod w/Fennel & Cauliflower
Why Exercise is Vital…
15 Minute Maui-Style Cod
Strategies to Prevent Hypertension
Southwest Salmon and Black Beans
Strength Training and Aging
Moroccan Eggplant with Garbanzo Bears

Ninth Month

Motivational Quotes that Actually Work
Spinach Feta Wraps
Home Workout and Movement Variations, Part 1
Roasted Shrimp over Spaghetti Squash
Home Workout and Movement Variations, Part 2
Minestrone Surprise
Snake Oil and Land Mines – What Can You Trust?
Peanut Shrimp

Tenth Month

Controlling Inflammation with Herbs and Food
Healthy Vegetarian Pot Pie
Lower Back Exercises You Can Do at Home
Fettuccini with Spinach Pesto
The Deadlift: The Best Whole Body Movement
Zesty Mexican Soup
Still Leg Deadlift
Mushroom, Tomato, Basil, Frittata

Eleventh Month

Am I Too Old for Weight Training? Part 1
Am I Too Old for Weight Training? Part 2
Blueberries with Cashew Sauce
Am I Too Old for Weight Training? Part 3
5 Spice Onion Soup
Restorative Sleep
10 Minute Fig and Fresh Apple Cobbler

Twelfth Month

Manage yourself to success
Golden Squash Soup
You are what you eat
Southwestern cod saute
Improved Mood
Broiled Rosemary Chicken
The rules of Weight Loss You Can….
Salmon with mustard, dill sauce